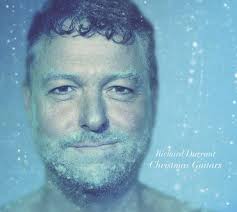 Richard Durrant returned to Stoke Golding for another superb evening of virtuoso guitar playing. Not surprisingly the Village Hall was packed to capacity with those who had enjoyed his previous visit, and other, like me who had heard such good reports of his last performance.
To say that Richard Durrant plays the guitar is rather like saying Dame Ellen McArthur does a bit of sailing. He is completely at one with his instrument and the result is breath-taking. The juxtaposition of his style of delivery only serves to highlight his mastery of the instrument and his obvious passion for the music. His lilting Sussex accent and casual dress brings Nigel Kennedy to mind and the comparison is valid in terms of style and talent. The scenic backdrops and pre-recorded delivery via an Apple Mac operated with a bare foot could almost have been comedic were it not so stunningly effective. Add in a Barry Cryer commentary to the haunting tale of a polar bear and you have entertainment of the highest order. This is a man who fils in for John Williams in our humble village hall! Just when you thought things could get no better Richard was joined on stage by Amy Kakoura and their rendition of Rejoice Emmanuel is something the will live with the audience a long time. The quality and clarity of her voice drew rapturous applause from the Stoke Golding music faithful.
Wonderful, wonderful entertainment and great credit must go to Alan White and his team who so tirelessly bring these quality acts to us.
Graham Grimley