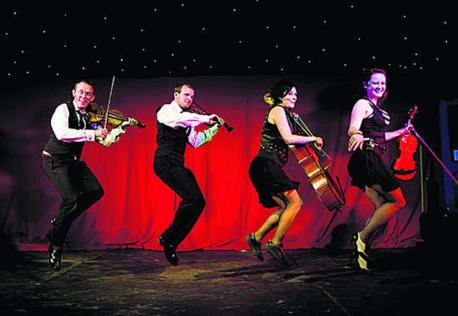 We have become used to a high standard of entertainment on the Stoke Golding music scene but I must confess that new standards have been set in coming up with the unexpected.
I had little preconception of what Bowjangles on the Box might be about but we are invariably assured that, whatever the nature of the performance, it will always be of the highest quality. This particular Sunday evening proved to be no exception despite the troupe being somewhat encumbered by the partial incapacity of one of their number who had sustained a torn calf muscle in a kick boxing accident. Somewhat inconvenient in a song and dance act, but Ezmie, Bertie, Ed and Mitch seamlessly adapted with the aid of a modified office chair on wheels. At times you were inclined to forget that this was not part of the normal routine.
So we were treated to a day in the life of a fictional TV station portrayed through the medium of song and dance. Song and dance is difficult enough without having to provide your own musical accompaniment on string instruments but this was a master class in this most unusual genre. We saw the weather and sports reports presented using classical and popular music to tell the story of the day's events. We also had a very clever dance routine centred on the Strictly Come Bowjangling dance programme which included the highlight of the evening for me as Ezmie danced a very acceptable Charleston whilst simultaneously playing a cello. That makes a change from Downton Abbey on a Sunday evening.
A great show and yet another display of high quality musical talent that we are so fortunate to have performed in our locality on such a regular basis.
Graham Grimley