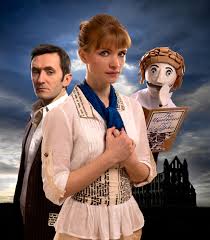 Through a remarkably faithful, award winning adaptation of this classic work, Box Tale Soup transport you into a world of beautiful paper puppets and gothic romance.
Northanger Abbey tells the story of the young, naïve and unlikely heroine Catherine Morland. We follow her to Bath where she is introduced into Society and the delights of the Gothic Novel.
We see her falling in love with the dashing, witty (if mildly sarcastic) Henry Tilney and we watch with horror as she allows her overactive imagination to get the better of her.
With just two performers, seven puppets and a vintage trunk, this unique version of Northanger Abbey ignites the imagination and brings out every last drop of Austen's wit, playfulness and humour. A heartwarming love story with genuine laugh-out-loud humour and dark, melodramatic gothic horror!
'I was completely mesmerised by this enchanting production ' – Joanna Lumley