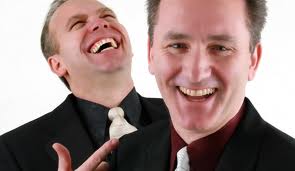 Take a former brickie with a touch of Pavarotti and mix with a 'posh' former St Paul's Cathedral Chorister. Add a good sprinkling of Morecome & Wise, a heap of talent and season well with humour. Introduce a variety of songs and music and leave to simmer on Stoke Golding Village Hall Stage until well done. Share with a few friends, laugh a lot, clap every so often and savour the Opera Dudes!
Tim Nole and Neil Allen gave us a real treat, performing a diverse programme of music from classical Rachmaninoff's piano variation on a theme by Paganini and Verdi's Rigoletto through to Mack the Knife and Andrew Lloyd-Webber's Music of the Night. The audience was never sure whether a piece was going to be a send up or serious – often it was a mixture of both causing havoc with the emotions.
Another fantastic sell-out Centre Stage production – let's hope there are many more to come.
Jane White