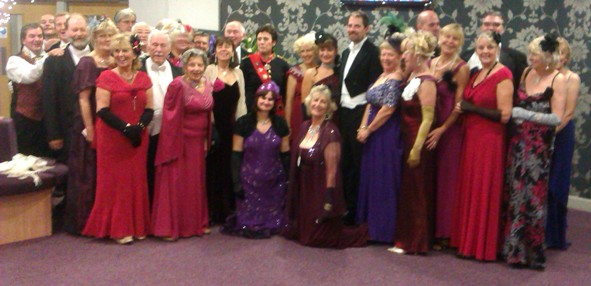 In their own words this was "a concert by Stanley Opera featuring a selection of music from Opera, Operetta, Musical Theatre, Films and Popular Classics", and what we got was what itsaid on the tin! As they say on Match of the Day, this was a concert of three halves. In the first half we were entertained with songs from a variety of sources that included both individual solos and chorus ensembles from the company. During the first interval volunteers served strawberries and cream and a glass of sparkling wine to both audience and participants.
The second half commenced with a selection from the smash hit Les Miserables followed by a great rendition by Andrew Robinson of the song made famous by Paul Robson "Ol ManRiver". The second half concluded with a selection of songs from the "The Merry Widow".
For the third and final half we all moved into patriotic mode with songs from Merrie England, then nostalgic mode with songs from the Second World War period such as White Cliffs of Dover. We then went really patriotic with Rule Britannia including audience participationand synchronised flag waving and singing, all in our own key! The evening concluded with two great choral favourites Verdi's Chorus of the Hebrew Slaves and Leonard Cohen's"Hallelujah", followed by a moving version of "Tell me it's not true" from Blood Brothers featuring Debbie Dubberley. This was an evening of lovely and varied music that kept the audience enthralled.
Roy Mitchell