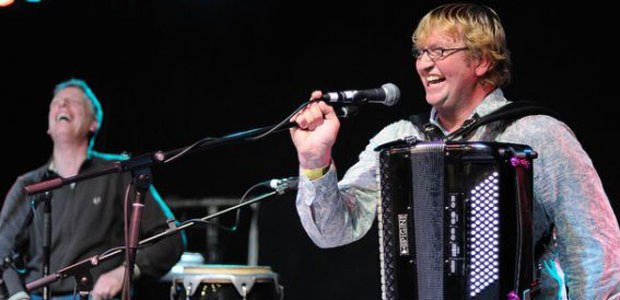 The unusual combination of Sam Pirt on accordion and Gary Hammond on percussion entertained a capacity audience at the latest Village Hall Centre Stage Event in March. A wide variety of tunes from around the world, starting with France and including Sweden and South America, had everyone tapping their feet and even waving hankies and other items throughout the evening.
Gary, a self confessed percussion geek, admitted owning 800 different percussion instruments! He managed to demonstrate a fair number of interesting specimens at the concert including a cuboid tambourine (supposedly Irish), a water drum, a thunder drum and a lagerphone.
Sam, absolutely brilliant on the accordion, also showed off his skills in foot percussion – a strange variety of dance involving sitting on a chair and tapping energetically in time to the music. It's harder than you think.
The shouts for 'more' at the end showed how much everyone had enjoyed the evening and the Hut People obliged with a beautiful tune called Napoleon Crossing the Rhine, accompanied by the audience trying to sound like seagulls, to end the concert.
Jane White