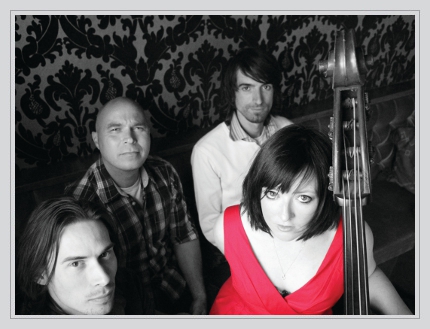 "Kel Elliott and her band were awesome" according to members of the audience lucky enough to have snapped up tickets for the latest Centre Stage event at the Village Hall. Their laid back bluesy jazz, combining great musicianship and superb song writing, provided a wonderful evening, leaving everyone wanting more and a rush at the end to buy their CDs.
Songs written by Kel and the band's guitarist Kelvin Leitch, accompanied by Kel on double bass, Kelvin Leitch on guitar, Leo Steeds on piano and Tom Voce on drums and percussion, were interspersed by fascinating stories of how they came about. Even the title for their latest CD had a story – it was supposed to be called 'Highs and Lows' until Kel accidentally came out with 'Lies and Hoes' and decided she preferred it that way!
Hailing from South Warwickshire we are so glad they crossed the borders to entertain us and we hope they will be back in the near future.
Jane White