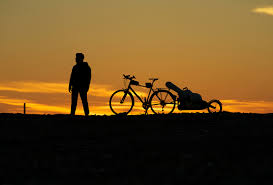 Stoke Golding Village Hall was the venue for an amazing, unique concert featuring Richard Durrant on guitar. It was week three of his seven week cycle tour around England, raising money for the Big C charity, along with his friend Sean Simington who lost his partner Shirley to cancer last year.
Everything on stage revolved around the two bikes including the lights, speakers, computer, projector and, of course, guitar. It all had to be carried on their long journey, so far nearly six hundred miles and Richard had fallen off four times due to the weight of the trailer he towed behind him.
Richard's guitar playing was mesmerising and he had even composed cycling music especially for the tour accompanied by beautiful graphics projected onto his guitar case on stage. This was his third time performing in the village to a capacity audience and it was obvious by the cheering and demands for 'more' that he will be welcomed back.
You can find information about Richard's 1,000 mile cycle tour by reading his blog http://www.richard-durrant.com/pages/cycling-music/7846
Jane White