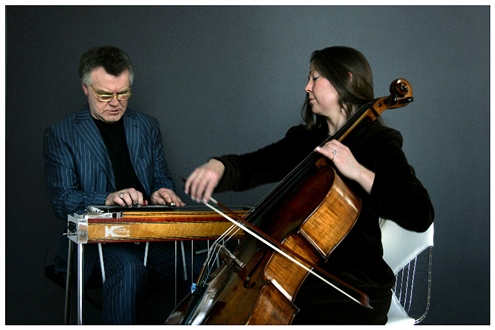 BJ Cole and Emily Burridge served up a treat at a recent Centre Stage performance at Stoke Golding Village Hall. They may not be names you are familiar with, but you will almost certainly have heard them perform with the likes of Elton John, The Verve, Sting, Jools Holland, Robert Plant, Roger Daltrey and Stereophonics to name but a few. They are accomplished individual musicians, with BJ on the pedal steel guitar and Emily on cello. They've played at many music festivals and concert venues so we felt pretty privileged to have them right here in Stoke Golding.
In truth most of the audience did not know what to expect (I certainly didn't) – pedal steel guitar and cello duets are not the type of music you hear every day – but somehow it worked. They played a number of classical pieces including arrangements of Satie's Gnossienne Suites and also some contemporary pieces including 'Cry Me a River'. My favourite, however, was Emily's own composition 'Out of the Blue' – a haunting melody played with much feeling.
So another great night of arts at the village hall – can't wait for the next show.
Alan White